The Sixth "Rhetoric in Society" Conference of the RSE (Call for Papers)
The upcoming Rhetoric in Society Conference will be held at The University of East Anglia, Norwich (UK) on July 3rd-5th 2017.
The theme of the conference will be "Rhetorics of Unity and Division". The conference is hosted by The Rhetoric Society of Europe (RSE), The Rhetoric and Politics Group of the UK Political Studies Association, and The School of Politics, Philosophy, Language and Communication Studies, University of East Anglia.
Proposals are invited for panels, papers, roundtables and other forms of presentation to be delivered at the Sixth Conference of the Rhetoric Society of Europe. For the Conference Call for Papers see here.
We look forward to welcoming you in Norwich in 2017!
------------------------------------------------------------------------------------------------------------------------------------
Welcome to The Rhetoric Society of Europe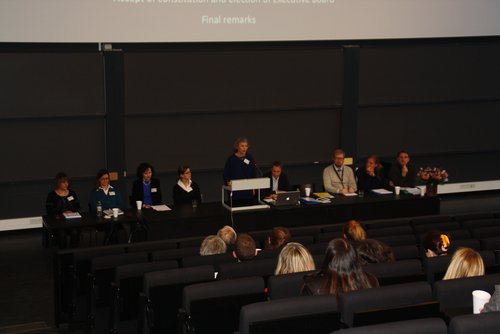 ­
Dear rhetorician,
In Europe research and teaching in rhetoric has been steadily increasing in the last decades. However our work in rhetoric seems to have been confined to separate nations or regions without much contact between different European research communities.
Fortunately this is changing. We are meeting each other at conferences, we are exchanging ideas, and we are planning European research projects.
Perhaps the most telling example of this development is the website you are visiting now: The homepage of the newly established Rhetoric Society of Europe (RSE).
The Rhetoric Society of Europe (RSE) is an organization for European researchers and teachers working on the art of rhetoric. The purpose of RSE is to promote and advance the research, study and teaching of rhetoric in Europe, and to facilitate professional cooperation between our members.
Even though it is an important aim of the RSE to stimulate the communities of Europe, we welcome members from all parts of the world. The RSE not only wishes to improve and enhance European research, but also to facilitate international cooperation. You can read the short history of the society here.
Presently the most important tool to achieve our goals is our homepage, which contains information about rhetoricians in Europe, study programmes, journalsRhetoric Journals, organisationsGroups and Organisations and conferences.
We have only just begun this work and invite everyone to provide more information about events, publications and institutions in your own countries.  We also encourage you to take advantage of our Forum, which is meant to be a place for RSE members and other interested in the study of Rhetoric to ask and answer questions as well as debate topics related to rhetorical studies.
We also aim to establish a European journal for the study of rhetoric, and have already begun the preliminary work in this important endeavour.
In January 2013 the fourth Rhetoric in Society Conference was  held in Copenhagen. During the conference RSE held its first General Assembly and adopted the Constitution and Bylaws for our organization.
This new reality, I am certain, will help support and connect the growing and flourishing rhetoric communities in Europe.
­­
Jens E. Kjeldsen
President of The Rhetoric Society of Europe